The role of coaching and our coaching philosophy
As a volunteer club most of our coaches are parents of players, who give their time to develop the players.  At least one coach in every team will hold as a minimum the FA Introduction to Coaching Football / FA Level 1 Award in Coaching Football, and all coaches are required to hold as a minimum the FA First Aid in Football and Safeguarding Children in Football accreditations.  The coach's role is to create an environment in which the players can freely express themselves without fear of making mistakes, reprisal or negative comments.  This is core to building confident players both on and off the pitch, whilst ensuring respect between all at all times.  The head coach for each age-group also schedules and implements training plans with a focus on Long Term Player Development.
Within the England DNA, the FA four-corner model provides a guide for our coaches to consider the differing aspects required to develop the Future player.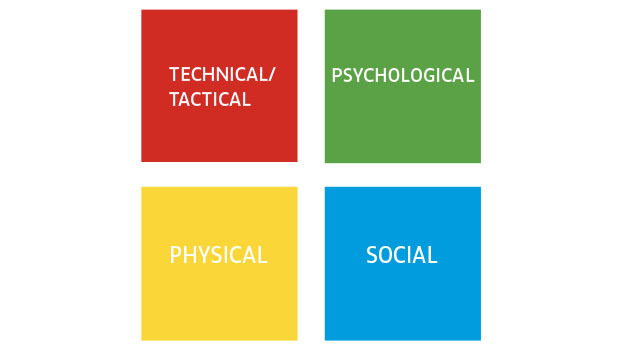 It is important for parents to remember that, while we may operate within an agreed coaching framework and look to create success in our results, we are volunteers, and as such we are always learning ourselves.  We will not get it right every time and this is not professional football!  As Club Chair, I ask you not to forget that this is grassroots football.  If the young players who come through Woking Cougars leave us in love with the beautiful game, and play into adulthood, we are making a positive impact.
Club / Player streaming policy
Woking Cougars F.C has adopted a policy of streaming players, based on the stage of their football development, across teams within the same age group using the FA Four Corner Model approach.  
The club policy regarding streaming can be accessed by clicking the following link:
Available to view in due course
Overview of our Squads / Teams
For the 2023/24 season, Woking Cougars has nearly 40 teams ranging from U7s to U18s.

We also have a very popular Cougars Cubs section for ages 3–6, which trains every Saturday morning. 
Further details relating to our various teams, alongside guidance on how to contact the relevant AGM (Age Group Manager) can be found by viewing the respective age group under 'Teams'
To celebrate the end of the season, the Club holds an annual presentation day.  This is usually held on a Saturday in mid-June.  
This is a great opportunity for teams to celebrate their achievements and to recognise individual player contributions for the season. Club awards are also given out on this day.  
This is a great social occasion and the only time the whole Club comes together to celebrate its achievements and those that make it all possible.  
And if you are interested in helping to organise our Presentation Day, or any other social events throughout the year, then please get in touch with a member of the Committee.